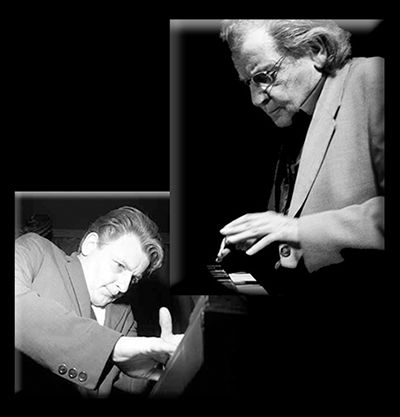 photos Copyright © 2013 Trio Records
Stan Tracey OBE, CBE
30 December 1926 – 6 December 2013
We could say goodbye to one of my great inspirations, Stan Tracey, although I would say Hello because his music and legacy will always be around.
Those of you who are familiar with the foundations of British Jazz will know that Stan was the resident pianist when Ronnie Scott first formed his London club.
His style was sometimes compared to Thelonious Monk- although Stan definitely had his own style particularly playing ballads.
In my formative years finding Jazz Piano sheet music was very rare. But one of my first jazz books was his "Under Milk Wood".
Aged 17, I used to sit by the radio and listen to a late night BBC Jazz Club in which Stan usually played.
At the Royal Academy Of Arts, London, 22 May 2002 celebrating HM Queen's Silver Anniversary, I shared the same stage with the Stan Tracey Quartet (Clark Tracey was on drums). We were presented to Her Majesty and photos were taken. I was really thrilled.
A week later I called Stan to ask if he'd seen the photos because I wanted a copy. Stan's reply, " There are some" he said kind of disinterested. "Apparently, the photographer wants £20 for each photo. If I want a photo of the Queen I'll go down to the post office and buy a stamp."
I'm not sure if he was aware of his dry sense of humor but his playing sure flowed like liquid mercury.
My condolences to the family and particularly to Clark who I've had the pleasure of playing with. I regret that I was unable to make the tribute show at The 100 Club in London in November.
- Keith Emerson